Wrecsam's inaugural St David's Day Lantern Parade lit up the city centre last night.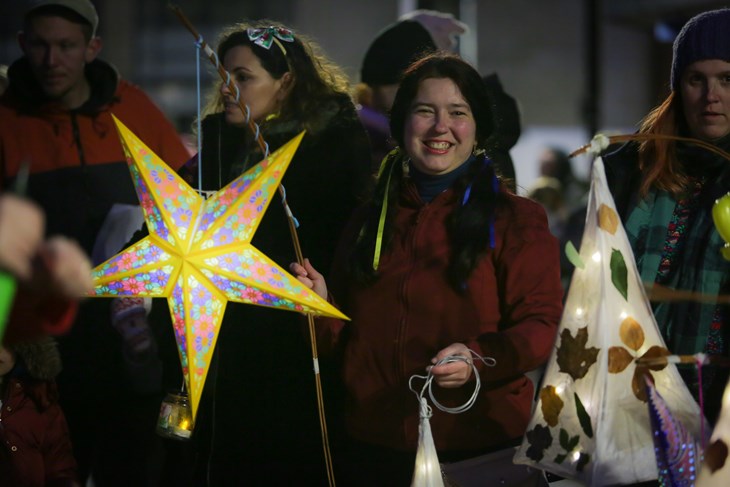 Local well-being and environmental charity Groundwork North Wales organised the event thanks to funding support from the 2025 City of Culture bid, the 3 Counties Connected Community Rail Partnership, and Gwersyllt Community Council.
The parade celebrated Wrecsam's heritage and culture with the large, crafted lanterns symbolising this including a train to celebrate the 175th anniversary of the Chester, Wrexham, Shrewsbury railway line which has played such an important part in Wrecsam's industrial heritage, a miner's lantern to represent the various collieries and mines that have operated in the area. The protected Great Crested Newt was featured which now has an increasing population in the local area and displayed Wrecsam's unique natural heritage along with the beloved national Welsh symbols of a dragon and a daffodil.
In the lead up to the parade lantern workshops using recyclable materials were held in local primary schools including New Broughton CP, Brynteg, Watts Dyke, Maes y Mynnydd, and in the local community at Ty Pawb, the Well-Being Hub, Alyn Waters and Minera Lead Mines. At Ruabon through Friends of Ruabon Station, at Rhostyllen Tabernacle thanks to the support of Bushra Ali and Marchweil Cubs and Scouts who helped carry the train lantern.
The evening started with a lovely performance from Wrecsam's Choir for Good at 5.30pm with the Mayor of Wrecsam officially starting the parade at 6pm. The parade left Queen's Square led by Band Cambria and the Mayor and Mayoress of Wrecsam. A short route was followed down Queens Street, up Hope Street, under the Argyle Arch and back on to Queen's Square.
Pete Howell Wrexham County Borough Councillor - Gwersyllt South Ward commented.
"It was a privilege to be invited to be involved in the first ever St. David's Day Lantern Parade in the city centre.
The amount of work and effort that had gone into making the lanterns was obvious to see, and the event was a great success with something for all ages.
A big 'well done' to Groundwork North Wales for organising the event, and I'm sure that it will grow in popularity in the future."
Hanna Clarke Group Head of Marketing at Groundwork North Wales said:
"It was great to see so many families and group of friends get involved with the parade. You can see a great deal of time and effort has gone into lanterns made in the community.
It was fantastic to bring a new event to Wrecsam's City centre, not only celebrating our culture and heritage but promoting a message of sustainability for future generations.
We hope that with the support of the local community and businesses we can make this an annual event."
If you would be interested in supporting or getting involved with a lantern parade in 2024, please contact Hanna Clarke at Groundwork North Wales on 01978 75734/[email protected]
More images from the pardae can be found HERE.