A Masquerade charity dinner was held on Friday 17th February at Rossett Hall Hotel to support the all ability cycling service Pedal Power run by the charity Cycling 4 All.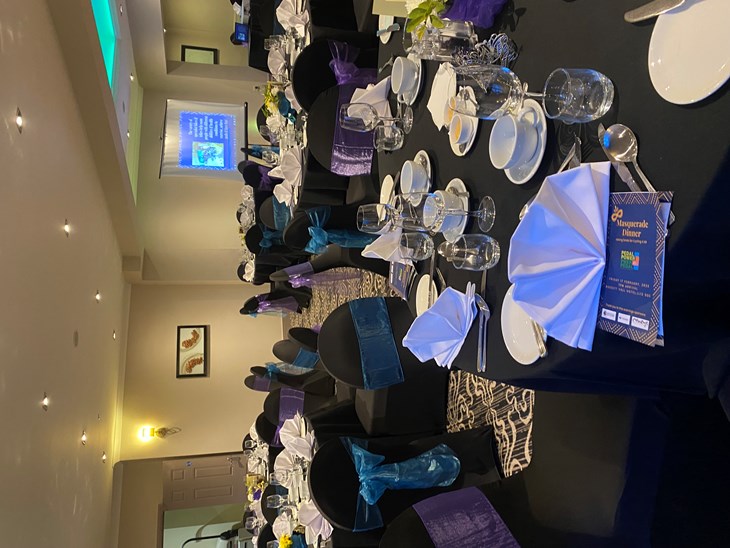 At the evening around 60 guests enjoyed a 3-course dinner, dancing, raffle, and an auction resulting in £1,300 raised to keep the Pedal Power service running and to help toward the costs of regular maintenance and repair of the specially adapted bikes and trikes.
Karen Balmer, Groundwork North Wales Chief Executive and Pedal Power Trustee said:
"The charity is thrilled to see the support from local businesses and the community, with great auction and raffle prizes donated. The sponsors of the evening included Gallaghers, Coxey's, Arrow Communications, Tesco and 3 Counties Connected. We would like to thank them all for their generous support."
Cycling 4 all is a charity that provides unique cycling opportunities for everyone and receives no Government funding and needs to raise funds to survive. The service is based in Alyn Waters Country Park in Wrexham and has a fleet of standard and specialist bikes.
There is a traffic free cycle track around the park where customers can enjoy the benefits of cycling in a safe and secure environment. The variety of specialist bikes and trikes help people with different abilities and health conditions to exercise, achieve goals and have fun whilst doing it.
Pedal Power will be holding another Fundraising event on November 28th so if you're looking to show your support – and want to enjoy an evening of festive fun and shopping please get in touch for details.
If anyone is interested in supporting Pedal Power please call the service on 07908325508, get in touch on social media or visit www.cycling-4-all.org . Pedal Power is supported by Groundwork North Wales on 01978 757524.