Winter update from our Lane End and Knowle Hill Reserve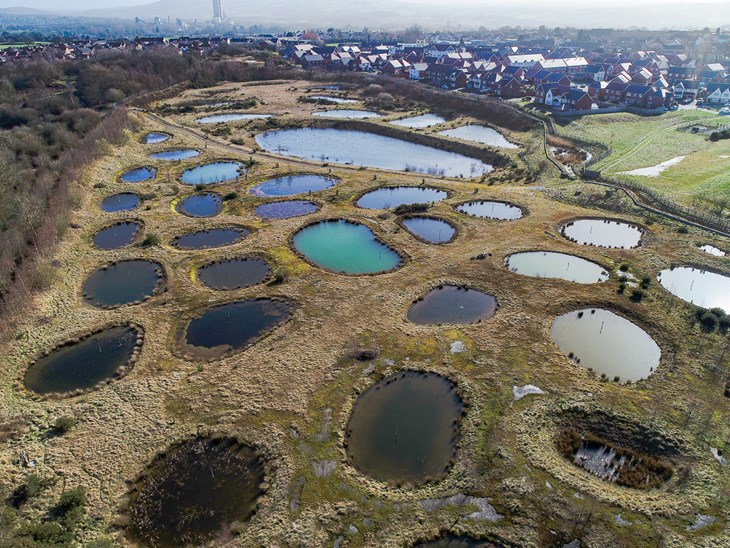 We have seen some fantastic wildlife sightings this year at our Lane End and Knowle Hill Reserves, especially with all the mild weather this Autumn. Recent bird sighting include tufted duck, woodcock, heron, redwing, fieldfare, bullfinch, goldfinch, snipe and stonechat.
Even amphibians have still been seen out and about, with regular sightings of great crested newts and frogs around the ponds and further afield near the warden's hut (the bug shack).
We have not seen many mammals out and about on the reserve, as they normally are nocturnal come out at night, but we have seen tracks and droppings of badger and fox.
Autumn heralds the beginning of winter work on the reserves and the colder months are an ideal time for conservation work such as pond improvement (removing bullrush and trees from in and around the ponds), coppicing trees, hedge laying, litter picking, and heathland management.
One of the biggest tasks we are undertaking at these reserves is laying a hedge on the boundary between Knowle hill and lane end. Not only is this a wonderful traditional skill to learn and teach our volunteers, it also creates a fantastic habitat for birds to nest in, and for small mammals and amphibians to travel along as a safe wildlife corridor. In total we need to lay ½ mile of hedge and this will take more than one year to complete. We have been enjoying creating the hedge with our volunteers and we have made a good start. We hope they have enjoyed working outdoors and learning new traditional land management skills.