Wild Ground Position Statement on new bike jumps on Knowle Hill Nature Reserve 8th September 2021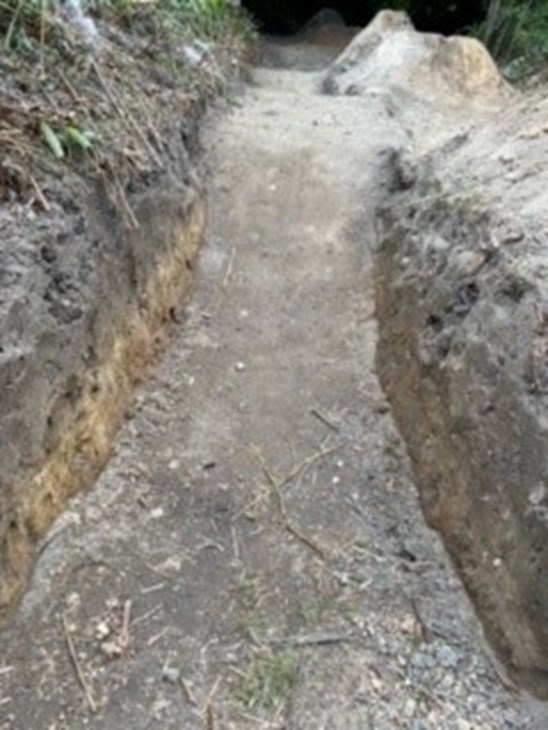 The History and Importance of Knowle Hill Nature Reserve
Wild Ground (formerly North East Wales Wildlife) is a small local environmental charity who manage many nature reserves for people and wildlife across North East Wales. We have managed the Lane End and Knowle Hill Nature Reserves in Buckley on behalf of the former owners Redrow since 2010, before finally taking ownership of the site in 2021.
The site was designated as a SSSI in 2002 and as a SAC since 2004, and form part of or contain:
Deeside and Buckley Newt Sites Special Area of Conservation (SAC)
Buckley Claypits and Commons Site of Special Scientific Interest (SSSI)
Drury Lane Pasture, Knowl Hill Site of Nature Conservation Importance (SNCI)
Buckley Tramway Scheduled Ancient Monument (SAM)
Maps of the SSSI and SAC features can be found here: Lle - Sites of Special Scientific Interest (SSSI) (gov.wales) and here: Lle - Special Areas of Conservation (SAC) (gov.wales). Ownership details are publicly available here: Property Search - Land Registry
The first stages of managing the site as a nature reserve began in 2008 when Redrow were approved to develop the new Heathlands estate on part of the old Lane End brickworks clay pit. This began with a 7-year long licenced translocation of tens of thousands of amphibians from the pit and its surrounds onto Knowle Hill. This development was permitted on the condition of the establishment of two new nature reserves, to be maintained in perpetuity, for the protection of the great crested newt.
Following the construction of over 50 ponds, tree planting and reseeding, the remaining clay pit site became the Lane End Nature Reserve. The newt exclusion fencing was removed, allowing animals to disperse between Knowle Hill and Lane End Nature Reserves. Newts now breed in the ponds on Lane End, with additional ponds and terrestrial habitat providing foraging, hibernation and dispersal habitat on Knowle Hill.
Management across these sites is varied and seasonal and includes pond management, heathland restoration, bracken control, hedge laying, coppicing and woodland management, litter-picking, estate maintenance and site safety checks, as well as ongoing wildlife surveys and monitoring.
Buckley supports a nationally important population of great crested newts (GCN), with several sites designated specifically to protect this species. Of all of these, the Lane End and Knowle Hill Nature Reserves support the largest population, with counts of over 1,300.
Great crested newts are a European Protected Species due to loss of habitat and reductions in abundance throughout their range. GCN are protected under:
Annexes II and IV of the EC Natural Habitats Directive 1992 (Habitats Directive)
The Conservation of Habitats and Species Regulations 2017 (1994; 2010; Habitat Regs)
Schedule 5 of the Wildlife and Countryside (WCA) Act 1981 (as amended)
Countryside Rights of Way (CRoW) Act 2000
As such they are protected from intentional killing or injuring, and intentionally or recklessly disturbance in a structure or shelter, and from intentional or reckless damage or destruction of their shelter.
For more information about these sites please see our website: Lane End (groundworknorthwales.org.uk) and Knowle Hill (groundworknorthwales.org.uk).
Response to the recent construction of bike jumps:
Over August 2021 a series of new bike jumps have been constructed on the nature reserve, in an area which although wild and secluded, is nonetheless of important value for wildlife and protected by law. These earthworks included cutting extensive channels into the land, ground compaction, damaging tree roots, and cutting back vegetation, and represents a loss of habitat area suitable for great crested newts. Works were undertaken without consultation, permission from the landowners or consent from the environmental authorities for SSSIs.
There is an apparent misconception that only the Lane End Nature Reserve, which is fenced off and has only limited public access, is a protected space for wildlife. In fact, both reserves – which border each other – form part of the same whole, are managed for the same species, and are protected by the same laws. Both are privately owned land set aside for conservation, but access is permitted to Knowle Hill Nature Reserve via public footpaths, for people to responsibly enjoy the outdoors, greenspaces and nature. These footpaths are managed by Flintshire's Public Rights of Way team.
It may be the case that the belief that no harm has been done arises from a lack of knowledge of the importance of the site to GCN, a memory from childhood of different land use and restrictions from before the 2,000's, and limited on-site interpretation.
However, while the reserve is a wild space with public access, members of the public are not entitled to cut back vegetation and trees to build earthworks for bike jumps at will. Such works still require permission from the landowner, just as they would on any park or farm or Public Open Space. In this case – where the land is protected by law – they would additionally require consent from NRW. We encourage outdoor activities on our open-access sites, but they must not compromise their primary purpose, which here is specifically conservation. The impact of all activities will be monitored, but walking and dog walking are permitted because they have a low ecological impact; biking is not encouraged due to potential conflict with other site users but has not been actively banned. The specific cause for concern is the loss of habitat to the newly created bike jumps rather than the activity of biking. We are therefore investigating with NRW and the police to take appropriate action.
Wildlife conservation and access to the outdoors for exercise and mental wellbeing are not mutually exclusive. The reserves are funded and maintained because of the natural heritage they support, but through this, we are able to run events and activities for all. In the three years before Covid, we averaged 26 events and over 450 attendees per year on these sites in Buckley. These are all free to attend sessions, provided especially for children and families over the school holiday periods and to schools during term time. We also run wildlife walks for all age groups throughout the year. In the same period, our dedicated volunteers contributed on average over 1,000 hours of work over nearly 50 sessions each year, maintaining the site. Public events are promoted on our website and Facebook page, as well as local social media sites. These events are open both to residents of the newly developed Heathlands Estate, who help support the varied works across the reserves through a ground rent and to the wider community. Having now taken ownership of the site we are in a position to expand even further on these opportunities and site interpretation.