This Summer the team at Groundwork North Wales and their partner organisations Wild Ground and Refurbs are running their largest ever programme of free, fun, outdoor focused family-friendly events.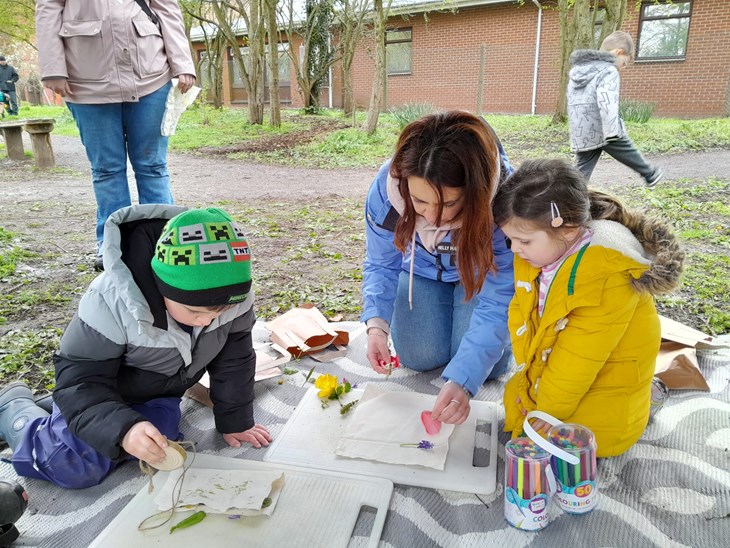 The summer programme will take place at a variety of different locations across the 3 counties of Wrexham, Flintshire and Denbighshire featuring locations such as Minera Lead Mines, Kings Mill, Brymbo Heritage Centre, Alyn Waters Country Park, Wepre Park and Wild Ground nature reserves across North East Wales.
New for 2023 is the Go Green 4 Nature project connecting young people with their local green spaces. Interesting activities include a Scything Workshop and Carbon Literacy at the Fossil Forest.
Our Back Yard, a Groundwork North Wales project, are once again running their summer nature club 'Quay Club' based at Wepre Park in Connah's Quay. Drop-in sessions of Quay Club take place every Tuesday for 5 weeks over the summer holidays starting on July 25th.
The heritage site of Minera Lead Mines near Wrexham sees a programme of outdoor activities and craft sessions for all the family. Wellies in the Woods sessions for parents/carers and younger children is on offer too.
At Refurbs Repair and Reuse centre in Buckley Flintshire, there are, free fun parent/carer and child Craft sessions running every Friday from 12.30 pm – 2.30pm.
The Healthy Rivers, Healthy Communities project are running ecofriendly activities at King's Mill on the outskirts of Wrexham. Activities vary from Leaf Printing and Nature Mandala Art to a Nocturnal Walk spotting nature not often seen in daylight.
Summer brings new things to see and do on Wild Grounds' nature reserves. At Lane End nature reserve near Buckley, Flintshire there are a range of fun nature and craft events on offer with Kite Making, Nature Prints and Pond Dipping with Crafts.
Nature based activity sessions are running at Wild Grounds' other nature reserves including Rhydymwyn and Glascoed. Fun sessions such as Den Building, Building Rafts and Creating a Dragon Fly and Nocturnal walks are planned. All the sessions are designed to get the kids outside in the fresh air and excited about nature.
All the activities on offer are free, but booking is essential for most of the events as spaces will be limited. Details of all the activities are on the events section of the websites www.groundworknorthwales.org.uk www.wild-ground.org.uk and www.refurbs.org.uk . All event news is publicised and updated on social media for Groundwork North Wales, Minera Lead Mines, Refurbs Buckley and Wild Ground. For more information, please email [email protected] or call 01978 757524.
Events are made possible thanks to funding from various grant giving organisations, you can free our partners and funders HERE