Local Member of the Senedd, Ken Skates, was welcomed by local conservation charity Wild Ground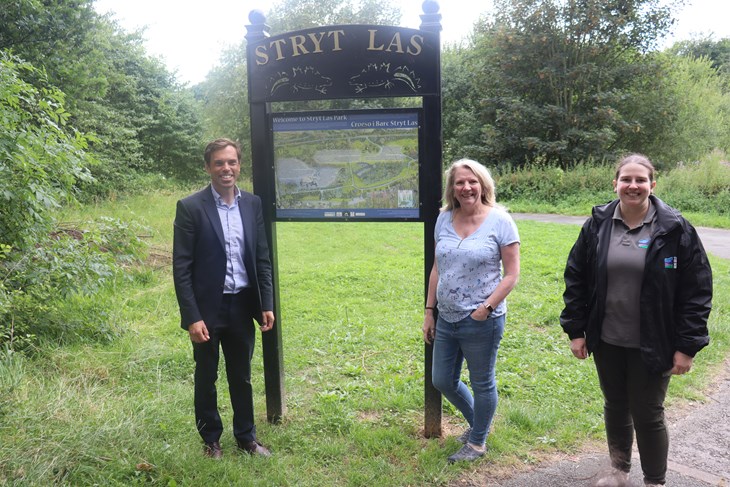 at the Stry Las nature reserve in Johnstown last week to see the work being undertaken by the Wild about Johnstown project.
Mr Skates stopped by the Styt Las nature reserve on Thursday 5th August where he was shown around the reserve by Wild Ground CEO Karen Balmer and Reserves Officer Emma Ellis and shown the work undertaken by volunteers and Wild Ground staff thanks to funding from the Welsh Government's Landfill Disposal Tax administered by the WCVA.
The Wild about Johnstown project includes the three nature reserves owned and managed by Wild Ground in Johnstown - Aberderfryn, Stryt Las and Brandie Brook.
The aim of the project is to make the nature reserves more pleasant places to visit. Improving habitats for wildlife and providing all members of the community with opportunities to get involved.
As part of the project a new pond-dipping area is being created at Styt Las. The project will include a mixture of wildlife-themed volunteering, community events and activities across the reserves.
Local Member of the Senedd, Ken Skates, said: "I really enjoyed the visit, catching up with the team and hearing about their plans to invest in and improve the reserve. It's a beautiful spot and with the events the team has coming up, coupled with what's planned for the site, I hope more local people will visit and enjoy what's on offer."
To get involved with the Wild about Johnstown project contact Emma Ellis [email protected]