4 x4 Response Wales help Wild Ground improve Glascoed Nature Reserve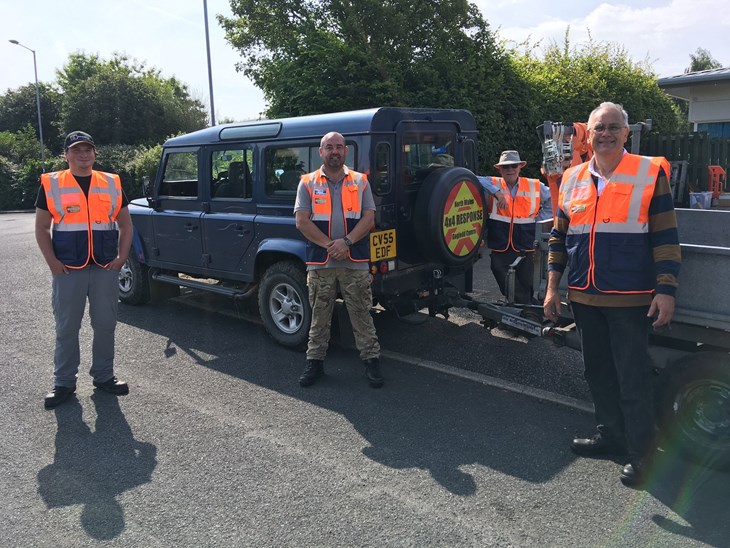 4×4 Response Wales is a voluntary organisation whose members use their own 4×4 vehicles to support the Emergency Planning Officers, The Emergency Services, Care suppliers and other organisations in times of bad weather, flood, poor access and other emergency conditions, throughout Wales.
On 23rd July 2021 a small team from 4 x 4 Response Wales volunteered to help Wild Ground get fencing materials across the site in order to improve access across at the reserve.
Moving heavy supplies across the Glascoed reserve without damaging the eco systems is tricky and the Responders were keen to practice moving materials and loads across difficult terrain. Although the distance across the reserve is only about 500 metres the Responders had to be careful crossing a wet spot near a pond and did not want to cause any damage to the surrounding ground. In addition, it was vital to ensure the bio safety of the site, so all the vehicles and trailer tyres were sprayed to prevent spreading any infection. It was a really successful day and new gates and fences were installed.
Kate Wilson, Wild Ground Reserve Officer said, "It was fantastic to work with 4x4 Response Wales as we do not have any vehicles capable of crossing Glascoed safely. The other option was carrying all the fencing supplies over with a wheelbarrow, so we are over the moon that 4x4 Response Wales were able to help out. The operation was carried out with the safety of people and the environment at the forefront, and we would not hesitate to work with them again.".