Paul first came to Refurbs in March of 2020 after North Wales Training informed him of a project ran by Refurbs called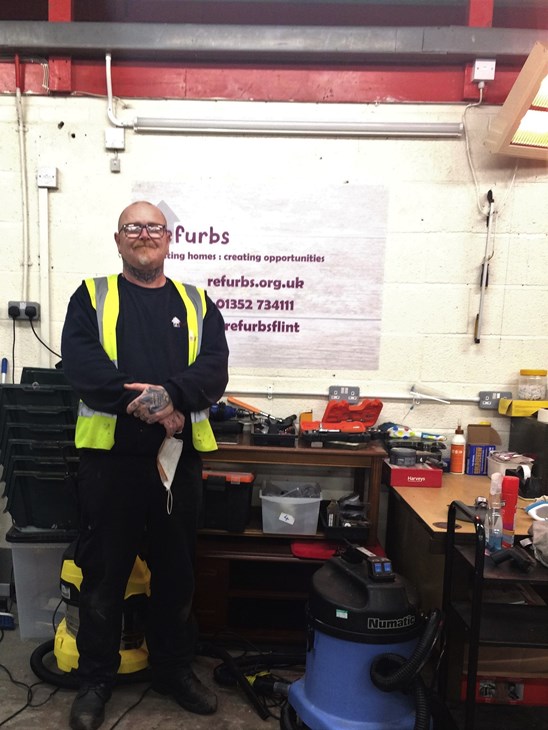 Flintshire Fellas which provides a welcoming friendly environment, giving unemployed or retired fellas an opportunity to come together, learn new skills and practice old ones in a relaxed, welcoming, and friendly environment. Activities include repairing furniture, creating small wooden craft pieces such as planters and bird boxes for resale and joining in various 'expert' workshops.
When the Covid-19 pandemic hit unfortunately the project had to be put on hold. Paul said this left him feeling low and he missed being involved.
" When Lockdown happened and the Flintshire Fellas had to be put on hold I found myself back at home missing the workshops and the friendly environment the project offered."
After the Lockdown was lifted in August Paul went back to North Wales Training where they asked him if he would be interested in doing some volunteer work at Refurbs, Paul was happy to get back involved
"I of course took their offer right away and told them I'd be more than happy to help out!". Paul said.
Paul helped carry out the cleaning of donated upholstered items for resale, assisting customers and helping on stock check and display placement in the Refurbs store.
When a position became available at Refurbs as a stock prep technician, Paul was offered a chance at the positon and was successful after showing real enthusiasm in delivering customer service and taking pride in his work.
Paul said, "I would encourage anyone who is out of work or someone who is looking for a career change even if you want to learn some new skills, to just go for it! It was one of the best things I have done in a long time and I wish I had done it sooner!"
Refurbs offer volunteering opportunities for people facing challenges such as health issues or long-term unemployment as we believe everyone has the ability to develop new skills and to achieve anything they want. In 2019-2020 volunteers dedicated over 2000 hours to assist in the running of Refurbs.
To find out more about volunteer opportunities and our Flintshire Fellas workshop click HERE.