Caffi Cyfle at the Refurbs Repair and Reuse Centre in Buckley where pleased to welcome Mark Tami MP and Jack Sargeant MS on Friday.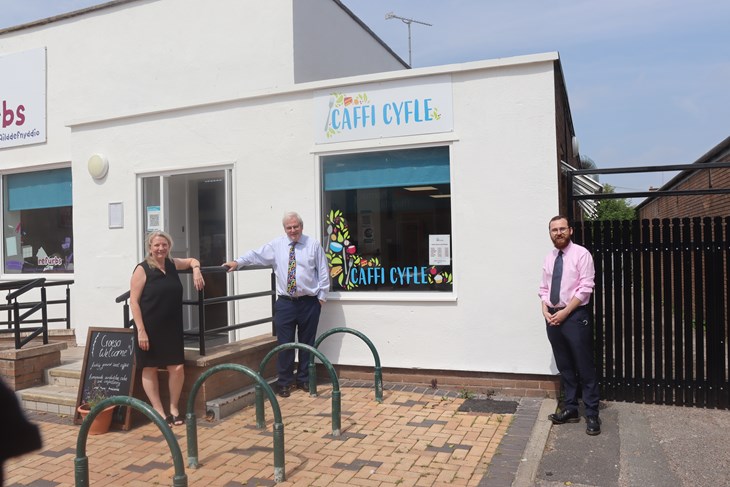 Caffi Cyfle is part of the Refurbs Repair and Reuse Centre in Buckley. The café is open and offering locally made and sourced produce to the people of Buckley. Including barista coffee, breakfast, brunch and lunch options which can be eaten in or takeaway.
The café supports the work of the repair and reuse centre. The whole facility will promote community cohesion through repair and reuse initiatives, whilst providing an opportunity to support the regeneration of one of Flintshire's town centres.
Then project is a partnership with Flintshire County Council and has been funded by the Welsh Government's Circular Economy Fund.
Karen Balmer CEO showed Mark and Jack around the centre and detailed further plans for the centre including an outside community garden space.
Jack Sargeant MS said: "It was great to hear about the wonderful work Refurbs Buckley is doing to change attitudes around recycling and unwanted household items. The centre is also making an important impact in the regeneration of Buckley Highstreet, something which is a key priority for me."
Mark Tami MP said: "A huge well done to the Team at Refurbs Buckley. The café is a great space for bringing the community together at the centre of town whilst providing volunteer and employment opportunities for local people."
To find out more about Caffi Cyfle and the Repair and Reuse centre visit www.refurbs.org.uk and find them on social media @RefurbsBuckley.