Visit by Andrew R T Davis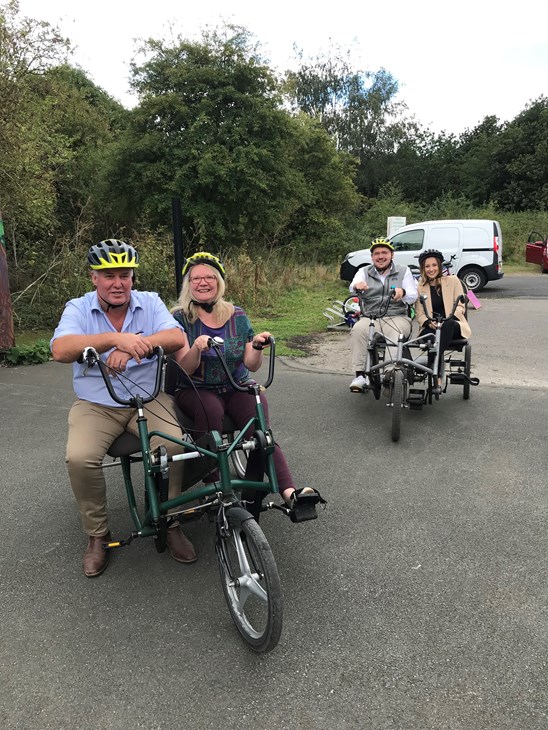 On Thursday 18th August, the Welsh Conservative Leader, Andrew RT Davis was welcomed to Pedal Power and Caffi Cyfle by Karen Balmer, Chief Executive of the Groundwork North Wales Group and Trustee of Pedal Power.
Andrew visited Alyn Waters Country Park to see the work that the Groundwork North Wales Group have done in supporting and developing Caffi Cyfle, which is located at the country park.
Caffi Cyfle is a place where delicious, seasonal, and wholesome foods that everyone can enjoy are on offer, as well as providing inclusive opportunities for the wider community to participate in work and volunteering programmes. The emphasis is on using fresh, sustainably sourced local ingredients and supporting Welsh suppliers.
Following visiting the café, Andrew went on to visit Pedal Power, an all-ability cycling service also located at the park. Andrew met the staff and volunteers and tried out one of the specialist bikes for himself so that he could get a flavour of just how accessible cycling can be.
The Welsh Conservative Leader, Andrew RT Davies said:
"It's wonderful what the team at Pedal Power are doing here, providing the equipment, and setting for people of all abilities to enjoy cycling in a safe and beautiful environment. The team are enthusiastic about cycling and about making sure that everybody, no matter their ability, can enjoy it."
Pedal Power is a local charity offering all-ability cycling that relies on fundraising and grants to keep going and is supported by Groundwork North Wales.