We are holding a wonderful Christmas Bazaar event to support Wrexham charity Pedal Power.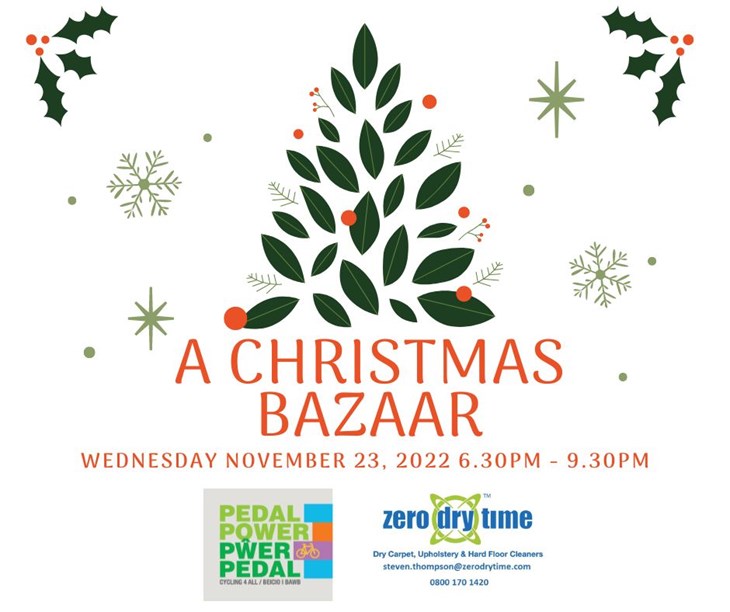 We are pleased to announce that we are once again holding a Christmas charity fundraising event on Nov 23rd to raise essential funds for Pedal Power, the all ability cycling service charity based at Alyn Waters Country Park.
We are delighted to be able to re start our social fundraising events for the disability charity following the disruption of the last two years, and this year's festive event promises to be very special.
We will be holding a Christmas Bazaar on Wednesday 23rd November 2022 at a unique and special location (details on request). The event will be an evening of fantastic festive fun and shopping with entertainment, a glass of fizz, a festive grazing board, the chance to enter a raffle, all at a wonderful location, and with tickets priced at £18 per person. We would like to thank our event sponsors Zero Dry Time Wrexham for supporting the event.
The Pedal Power cycling service is based at Alyn Waters Country Park in Wrexham and offers fun, therapy, and achievement for all abilities. The service has a variety of specialist bikes and trikes together with a safe cycle path to help adults and children with different abilities and health conditions to exercise, achieve goals and have fun whilst doing it. Pedal Power receives no public funding and relies totally on fundraising and donations to keep going.
If you want to purchase tickets for this festive event and support the invaluable service Pedal Power offers please contact the marketing team at Groundwork North Wales on 01978 757524 or email [email protected]
Groundwork North Wales is also calling out for support from local businesses and are asking that any company or organisation who wants to help by donating prizes for the Prize Draw and Raffle to get in touch - 01978 757524 or email [email protected]