A busy summer of family activities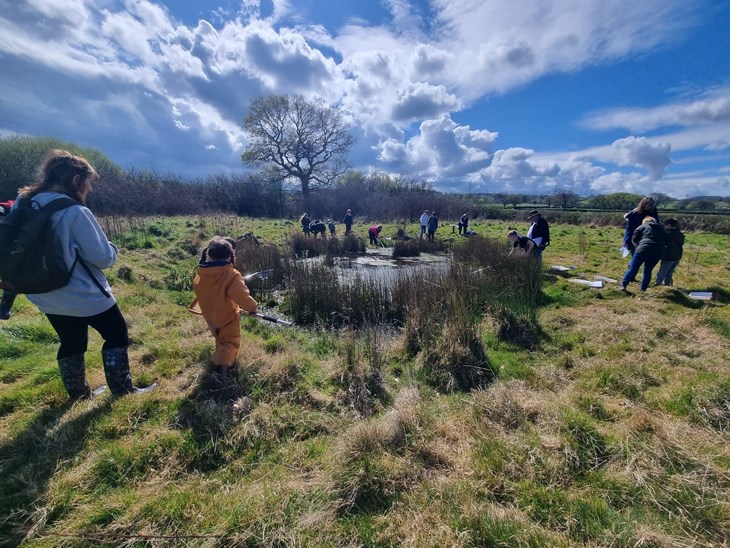 Wild Ground enjoyed a busy summer of family activities with more families attending their events than ever before, bringing nature and the great outdoors to around 200 people who attended the outdoor sessions this year.
The team tried out some new activities to engage with the local community to encourage them to come along to appreciate and enjoy their local nature reserve, and learn about biodiversity, local habitats and conservation.
Families particularly enjoyed sessions like bushcraft and bio blitz where the main aim is to have fun and explore the joys of connecting with our natural environment.
One of the most popular activities was a bat walk which attracted local people to Glascoed, a nature reserve situated west of St. Asaph town, on the west side of St. Asaph business park. The team were very glad to see good numbers attending and to see increased attendance at this reserve.
At Lane End, a new activity, family yoga was enjoyed at the nature reserve which aimed to connect people to the natural outdoors, through a relaxing yoga session, improving the well-being of all who came along.
Further events across the nature reserves situated over North East Wales include pond dipping, nature trails, treasure hunts, nature walks, wildlife-watching, den building, wellbeing sessions, woodland trails and more.
More events are planned for October Half Term and the team would like to invite families to suggest outdoor activities they would enjoy, please give us feedback on Facebook or email [email protected]
Some of the events were made possible by the Heritage Lottery Fund and the People's Postcode Lottery and our grateful thanks go to them for their support.