Refurbs Wrexham's Big Bike Sale starts Friday 1st July and will run every Friday throughout July.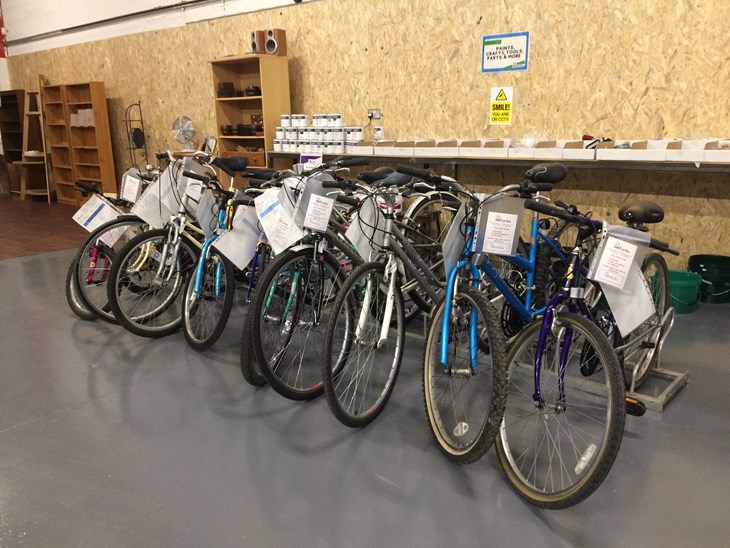 Refurbs Wrexham will be stocking a wide range of bikes suitable for children, teenagers, and adults. The perfect opportunity to get a bike in time this summer.
The bikes have been part of our 'Bike Refurb' project run at our site in Flint. The Bike Refurb project involves the refurbishment of bikes that are no longer wanted or fit for purpose. The bikes are collected from local household recycling centres, skip sites or they have been donated.
The bikes have been refurbished back to life by volunteers led by a qualified Cytech mechanic. The volunteers undertake various tasks to refurbish the bikes back to being fit for purpose. With all bikes undergoing a full pre delivery inspection check from a qualified cytech mechanic before sale.
Lisa Jones, Project Manager for Bike Refurbs said
"The Bike Refurbs project has so much to offer. New skills and confidence for the volunteers. Reducing waste that is sent to landfill and CO2 emissions and providing quality affordable bikes whether that's for transport to work, an everyday active lifestyle or for children to learn to ride and play".
The bikes will be available to purchase from our Refurbs Wrexham store at the bottom of Henblas Street, Wrexham every Friday throughout July 2022. There will be a wide range of bikes suitable for all ages and abilities starting from £15.