Fuel Poverty Awareness Day is 3rd December and is run by charity National Energy Action (NEA).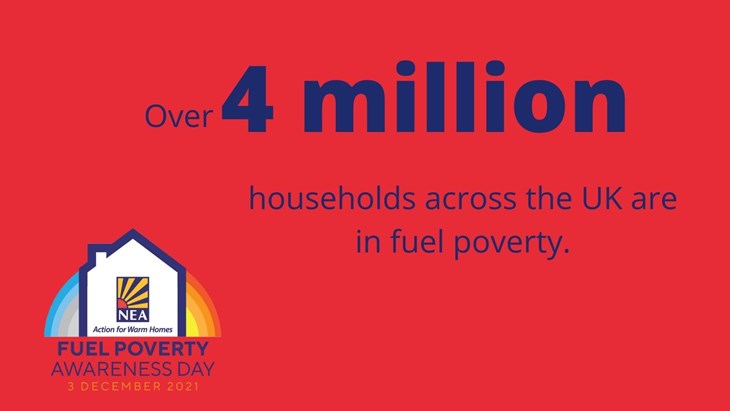 Supported by hundreds of organisations across the UK including the Energy team at Groundwork North Wales, other Groundwork Trusts who provide energy advice and energy efficiency measures in local communities.
Many people living in fuel poverty will struggle this winter. For some it could be fatal, in most years around 10,000 people die across the United Kingdom because they are unable to keep their homes warm. This winter looks to be even more deadly as the increase in energy costs will mean that many low-income and vulnerable households may have to ration their energy usage which will lead to illness and misery.
Hospital admissions for COPD are four times more likely in winter months
Cold homes cost the NHS more than £2bn every year in England and Wales
Over one million households are considered to be in severe fuel poverty
Fuel Poverty is not just an issue for one day but is a year-long problem. The price of energy has increased by £235 for domestic consumers across Great Britain since last winter. It is estimated that the record rise in October 2021 to the Default Tariff price cap resulted in over 500,000 more households pushed into fuel poverty. Further rises to the price cap in April are likely to result in a doubling of the cost of heating a home compared to last year.
Over the same period, those on the lowest incomes and households that contain someone with a long-term illness or disability that reduces their ability to work have seen their income plummet by over £1000 per year. In addition, inflation remains high, meaning that essentials outside of energy also continue to rise in price. This places a worrying burden on the shoulders of the poorest households, especially those living in the least efficient homes.
Where to go for support
You can contact the Energy team at Groundwork North Wales for advice and support by emailing

[email protected]

National Energy Action, the national fuel poverty charity run their own Warm and Safe Homes Advice Service. More information can be found HERE