Join our night newt survey at Lane End
Where

The Bug Shack, Brindle Close, Buckley, Flintshire,CH7 3FB

When

Book

Call the Wild Ground team on 01978 757524
Book Now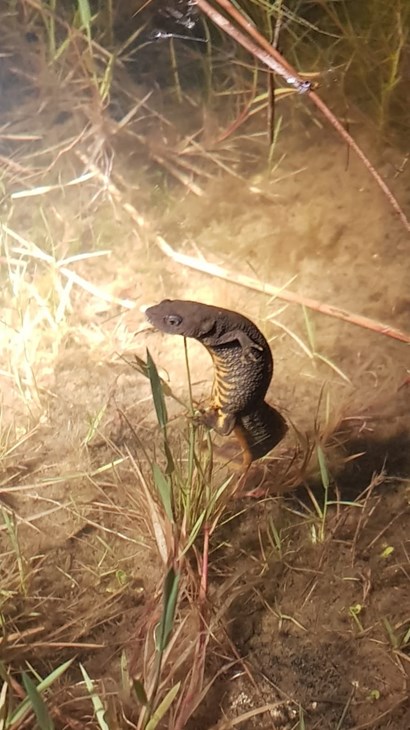 Meet the amphibians takes place at our Lane End nature reserve in Buckley:
The Bug Shack, Brindle Close, Buckley, Flintshire, CH7 3FB
Please make sure you wrap up warm as it could get quite chilly and also bring a hand/head torch if you have one.
Please wear wellies if possible, if not, robust boots or shoes will be fine. Please try to wear clean footwear, we will have to disinfect all footwear before going on-site.
We will meet around 9 pm, talk about the background of the nature reserve and about different newt species and what to look for when surveying at the reserves.
We will take a look at habitat suitability, index surveys, (what they are and how they relate to the data we gather) and what conservation work we do on the site. Once the sun has set, we will walk around the reserve and spot newts in the ponds with powerful torches which we will provide. We will show you the features you need to look for to identify the species of newt you are looking at.
Unfortunately, there won't be any toilet facilities or indoor space available.