Following a glorious summer of long, hot sunny days and torrential downpours, this has been a good growing year for vegetation in North East Wales – and much of this has needed managing.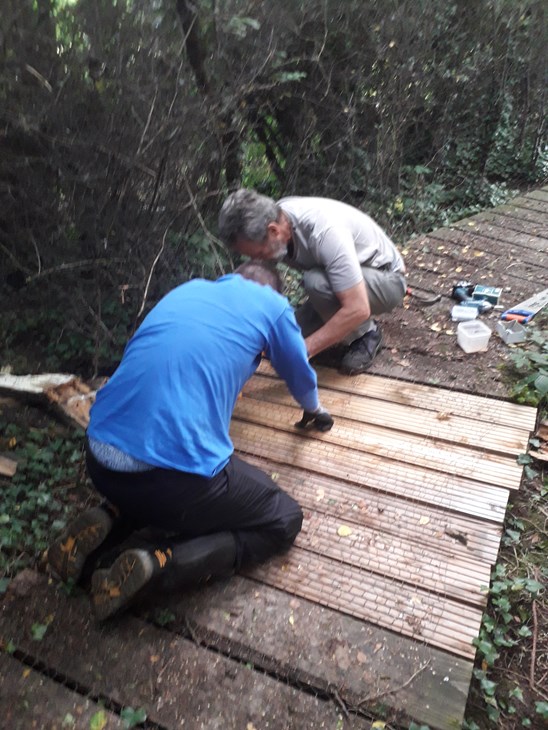 The season opened cutting back herbaceous vegetation along newly planted hedges at Broughton – and more established ones in Rhydymwyn – to reduce light and nutrient competition for the hedges. At Broughton this totalled over 300m of hand clearing, so as not to damage the young saplings with machinery, with the arisings collected into two compost heaps.
Our teams then moved on to tackle large bracken stands on Knowle Hill, Llwyni Valley and Rhydymwyn nature reserve, trampling it to crush the stems and reduce its vigour. Bracken can be a valuable component of a site's biodiversity but has a tendency to dominate to the exclusion of other vegetation so we try to control and reduce its spread.
Our Thursday team then joined forces with partners from across Flintshire to pull Himalayan balsam through Late July and August from the Alyn catchment, extending from source down to Leadmills in Mold. This long-term, landscape-scale project is proving very successful, with fewer and fewer plants found each year. The plan now will be to push our control zone further downstream through Mold and beyond.
Meanwhile, our Buckley team has been busy maintaining footpaths throughout the site, keeping the reserve free of litter, and even helping out at our Maes y Grug and Glascoed reserves with fence and bird hide maintenance respectively. This has supported Monday's Roaming Reserve team, who have had a big push at Glascoed, making repairs to the bird hide, boardwalk, styles and fencing, as well as keeping the woodland trail footpath open and cutting back thistles to prevent their seeding and spread. Trefnant nature reserve has also had a flurry of activity, with repairs made to fencing and gates in readiness for grazing later in the year.
As the summer rolls through August and into September ragwort is in full bloom and easily identifiable in the grassland sward. Teams at Rhydymwyn and Lane End have pulled this plant to comply with legislation to prevent it spreading to surrounding land. However, ragwort is a valuable foodplant for the cinnabar moth's catterpillars, so we restrict pulling to the edges of our sites and retain the plant throughout the core zones of our reserves to provide for this attractive yellow and black banded creature.
Moving into Autumn our teams will begin grass cutting and raking, pulling Typha from ponds, and woodland management.