Yesterday saw the West Cheshire and North Wales Chamber of Commerce bring their monthly lunch time networking event to Venue in the Park, Alyn Waters, Wrexham.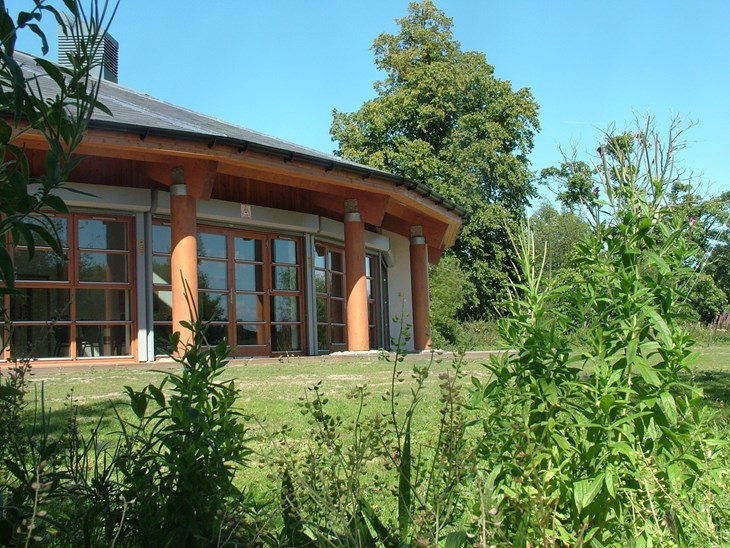 The event was attended by over 40 businesses from across West Cheshire and North Wales. One of the largest events Venue in the Park has hosted since Groundwork North Wales took over the running of the conference room and cafe from Wrexham County Council at Alyn Waters Country Park.
Helen Pullin Membership Support Officer for the Chamber of Commerce said that everyone enjoyed themselves
"Today's networking event was well attended, and I could see that everyone really enjoyed themselves! Thank you to Hanna and Venue in the Park for hosting a great networking event".
The aim of Chamber networking events is to help firms make those vital local connections that enable business in the region to flourish. The lunch events allow business people to network whilst showcasing some of the best venues in the region.
An amazing buffet was provided through Caffi Cyfle and the supported volunteers. Guests were able to enjoy chicken and bacon caesar salad, accompanied by chargrilled veg and balsamic dressing, savoury pastries, crudités, dips and fresh bread. There were also two quiche options and the deserts were either a delicious homemade strawberry cheesecake or fruit salad.
Graham Boyd, owner of Absolutely Design, gave a talk on his life journey from graduating in Product Design to becoming the Managing Director at Evoke Creative Ltd, to setting up his own company – Absolutely Design. Hanna Clarke, Marketing and Events Manager for Groundwork North Wales also gave a brief talk on Groundwork North Wales, its various charitable projects including the social enterprise Venue in the Park.
Julie Blakely, Commercial & Corporate Account Executive at Daulby Read in Wrexham who is a member of the Chamber said of the venue and the event:
"I thought the Venue in The Park was lovely. I really enjoyed meeting up with everyone at the Chamber Networking Lunch and I am surprised more people were not aware of the park, café and venue. I think many will be coming back to share the excellent environment and all it has to offer. I had a wonderful few hours out of the office today and thank you to the Chamber of Commerce for arranging this event!"
To find out more about Venue in the Park and how you can hire the venue please contact 01978 269 564 | [email protected] or download the brochure HERE. By booking Venue in the Park you are supporting the charitable and social objectives of Groundwork North Wales which can be included in your company's corporate social responsibility contribution.