Bags of Help is Tesco's local community grant scheme where the money raised from the 5p bag levy in Tesco stores is being used to fund thousands of community projects across the UK.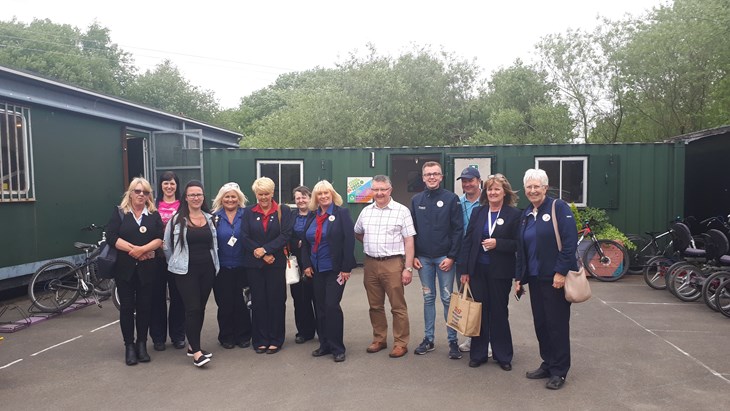 Projects that bring benefit to their community will get the green light – these range from improving community buildings and outdoor spaces to buying new equipment, training coaches or volunteers and hosting community events.
2019 marks 100 Years of Great Value at Tesco. To celebrate their Centenary year, they are holding two special voting rounds, offering a unique opportunity to benefit more people. To be eligible to apply, projects must be in England, Scotland or Wales and provide a significant benefit to communities across the voting region. Community charity Groundwork is working in partnership with Tesco to deliver Bags of Help Centenary Grants.
Last week the Tesco Community Champions from across North Wales met with Groundwork North Wales at the Venue in the Park facilities at Alyn Waters Country Park to decide on the Centenary Grants projects for the July / August 2019 in store voting.
Three projects with a health theme focus have been chosen to be voted on in all the Tesco stores across North Wales. They will be in the public vote for £25,000 £15,000 or £10,000 (1st, 2nd and 3rd places). Customers are given blue Tesco tokens when they shop to allow them to vote for the project they like.
After the meeting the Community Champions visited Pedal Power ran by Cycling4All to see how the Bags of Help Tesco Grant had been used to improve access for the all ability cycle track. Cycling 4 All is based at Alyn Waters Country Park and is supported through Groundwork North Wales.
Geraint Hughes – Tesco Grant Enabler Officer for Groundwork North Wales said that the day was a great chance to catch up with all the stores across North Wales
"It was great to catch up with all the Tesco Community Champions from across North Wales. The grants are doing amazing work across North Wales and the UK. The Bags of Help Grants are a great opportunity for community projects to access funding to allow them to flourish".
To find out more about Tesco's Bags of Help grants in the North Wales area contact Geraint Hughes Tesco Grant Enabler Officer for Groundwork North Wales on 01978 757524 [email protected]
More details about how the scheme works can be found HERE. Applications for Tesco's Bags of Help Grants can be completed HERE