Children (and adults) had a fantastic time at Minera Lead Mines Country Park and Visitor Centre on Tuesday joining in with the Clay Creation activity held at Visitor Centre.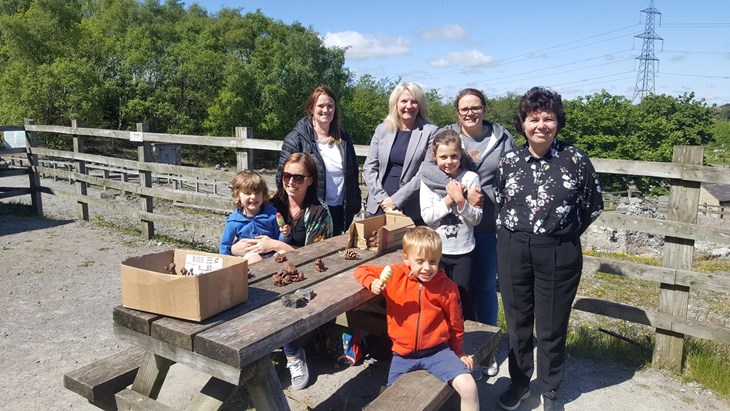 Groundwork North Wales are operating Minera Lead Mines Visitor Centre under licence from Wrexham County Borough Council, thanks to funding from the Lottery Heritage Fund.
Groundwork North Wales an environmental and social impact charity based in Wrexham have been opening the Minera Lead Mines Visitor Centre at weekends since July 2018 and will continue to do so at weekends and during school holidays to allow visitors to gain a fascinating glimpse into the industrial past of the beautiful Clywedog Valley.
The site will offer regular fun filled family activities during school holidays, has a Nostalgia Day planned for Sept 14th, 2019, a repeat of the fantastic Halloween Spooktacular from 2018 and some festive fun for Christmas 2019 along with other family-oriented events.
Susan Elan Jones MP for Clwyd South took the opportunity to visit the site on Tuesday and had a wonderful time;
"It has been wonderful to see the Visitor Centre and the entire Minera Lead Mines Country park site so full of families enjoying everything the site has to offer. I am looking forward to the Engine House being open later in the year. I would encourage anyone looking for a great day out to visit Minera Lead Mines, supporting the conservation of our local heritage".
Karen Balmer, Chief Executive Officer for Groundwork North Wales was pleased to have the support from Susan Elan Jones MP;
"We are pleased to have been able to show Susan around the Visitor Centre and country park here at Minera Lead Mines today. The family fun activities and opening of the visitor's centre have been well received and we are look forward to welcoming more visitors throughout the summer and onwards"
The site is open every weekend and throughout the summer holidays, with onsite free parking, toilet facilities with snacks, drinks and ice cream available. More information on Minera Lead Mines Country Park and Visitor Centre can be found on www.groundworknorthwales.org.uk and Visit Minera or you can contact Groundwork North Wales on 01978 757524 or email [email protected] to find out more about the project.