Groundwork North Wales are celebrating World Down Syndrome Day and celebrating the supported volunteers with Down's Syndrome at Caffi Cyfle, Alyn Waters Country Park.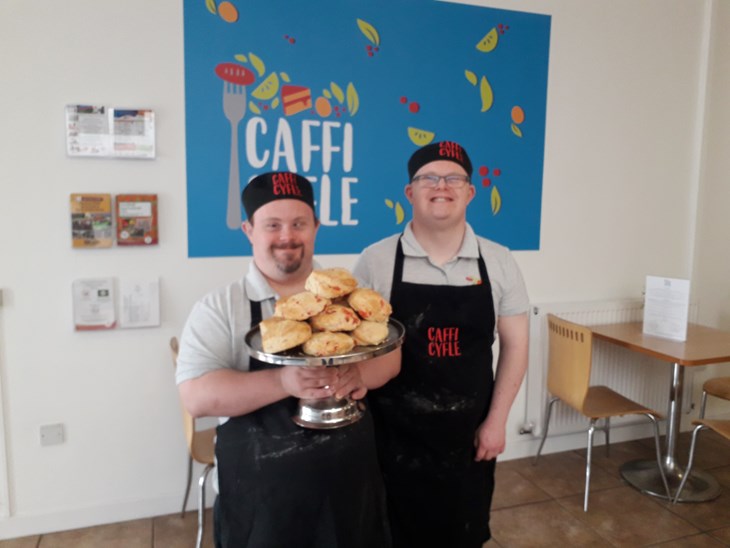 Every year World Down Syndrome Day is celebrated on 21st March. World Down Syndrome Day is a global awareness event. This year, the global theme is "We Decide". The theme is inspired by the United Nations Convention on the Rights of Persons with Disabilities (CRPD) which supports effective and meaningful participation as a core human right.
Many of the supported volunteers at Caffi Cyfle have been at the café for over 10 years. They are valued members of the team making the scones for sale in the café, preparing other food items, serving customers, clearing tables, washing pots plus much more.
Speaking with the parents and guardians of the supported volunteers they say that the opportunity for their sons, daughters, brothers, sisters to volunteer at the café is invaluable. It provides the volunteers with a sense of routine, promoting their independence, self-esteem and confidence.
Michelle Davey Mum to Anthony Davey who has been a volunteer at the cafe for over 3 years describes the many benefits working in the café offers Anthony.
"We had no opportunity like this when we lived in Cambridge. Anthony has come on in leaps and bounds since he started at the café. His confidence has increased, especially with using money and his improvement in speech are fantastic".
Jackie Grice's son Martin has been at the café of over 12 years and for Jackie the importance of Martins regular days at the café is seeing him happy.
"Seeing Martin happy and feeling valued for the work he undertakes at the café is invaluable and the positive effect it has on his confidence. He loves making scones for the customers"
Adrian Thomas Café and Conference Facilities Manager at Caffi Cyfle and Venue in the Park, Alyn Waters Country Park explains how the supported volunteers contribute to the making the Café a great place.
"The supported volunteers are a vital asset to the café. They have decided for themselves that they want to contribute to making Caffi Cyfle a great place for the community to meet. This shows in their commitment to their roles and the day to day activities they undertake to keep the Café and Function room running".
The Down's Syndrome Association ask for you to support World Down Syndrome Day by wearing #LotsOfSocks. But not just any sock you can wear their official #LotsOfSocks socks or other brightly coloured, mis-matched socks and to post your pictures to social media.