Steps to progressions is funded by Wrexham County Borough Council and is a stepped approach for young people to develop their personal skills and gain qualifications.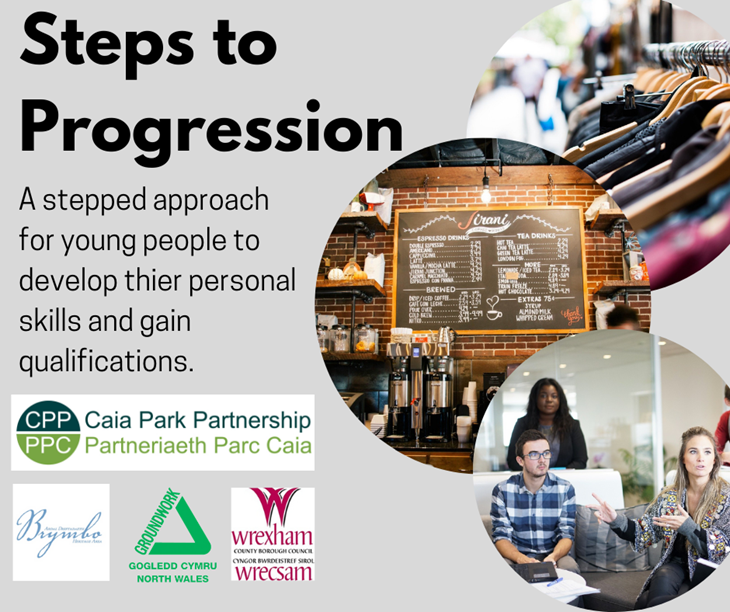 Working together with the Caia Park Partnership, Wrexham County Council and the Brymbo Heritage Trust, with the Communities for Work team making referrals.
This collaborative working and the combined expertise and experience has ensured participants have been given a comprehensive level of support and meant it has been possible for individuals to progress smoothly without the need to navigate between different schemes and providers.
32 young people have been involved on the programme and a total of 27 qualification have been achieved through online learning.
12 Young people have completed pathways or employability training courses such as in Health and Safety, Administration, Health and Social Care and Customer Service.
11 Young people completed the Personal Development course and will receive up to 5 certificates each for doing so. Because the Personal Development course was so successful;- the participants enjoyed it and found the sessions beneficial.
As soon as restrictions allow some of the participants who have been part of Steps to Progression and the Personal Development sessions in particular will form a group and take part in face to face life skills sessions.
The funded has now been extended which will allow the partnership to support a further 75 young people in Wrexham across the next 12 months.
Find out more about the project HERE or contact
Contact Groundwork North Wales Lisa Jones on 01978 757 524 or [email protected] / Caia Park Partnership on [email protected]